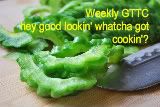 Here's my post for Week #5 of Wendy's Garden To Table Challenge. I'm behind on my blogging so this post is late. I've been lucky to have a few more ripe tomatoes to enjoy. These are simple ways to enjoy your beautiful harvest.
I was totally craving the classic BLT sandwich one night. I jazzed it up a little. This is my version of a
BATC
(bacon, arugula, tomato & cheese). I love the peppery taste of arugula in sandwiches and am a sucker for Munster cheese. I used one of my Green Zebra tomatoes for this yummy treat. I know, nothing fabulous but oh so yummy!!
My second tomato dish this week was a yummy Italian bread salad. This is perfect for crusty old bread (it's best with day-old or 2 day-old bread). Note that if you use freshly baked bread, the bread will get soggy and fall apart. Some recipes ask you to toast the bread but that seems so
un
-Italian!
LOL
! It's also a great way to use up ripe tomatoes and basil too!
Serves: 6-8
1 loaf day old Italian or French bread (about 6 cups), cut in to bite sized pieces
2 cloves garlic, minced
1/4 c. olive oil
2 1/2 Tbsp. balsamic vinegar
4 medium ripe tomatoes, cubed
10 basil leaves, shredded
3 Tbsp. capers
1 ball fresh mozzarella, cut into bite sized pieces
arugula
1) In a small bowl, whisk together garlic, 1/4 c. olive oil and 2 1/2 Tbsp. balsamic vinegar.
2) Add bread, tomatoes, basil, capers, arugula and
mozzarella
cheese to a large bowl. Toss with the vinaigrette and let the salad stand for 20 minutes before serving.