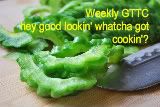 Sorry, I'm behind on my blogging. This is my official post for Wendy's Greenish Thumb Garden to Table Challenge (Week 4). This week I had finally collected a healthy bunch of green beans from the garden. I used the green beans and some zucchini and patty pan squash to make a Greek dish called
Fassolakia
me
Kolokythakia
(Stewed Green Beans & Zucchini). It's simple Greek comfort food. It can be eaten as a vegetarian main dish or a side dish.
Serves 4-6
Time: 50 minutes
3 Tbsp. extra virgin olive oil
1/2 large onion, chopped
2-3 cloves garlic, minced
1 lb. fresh green beans, trimmed into 1 inch pieces
3 medium squash, chopped
14.5 oz. can diced tomatoes
1/2 c. water
salt and pepper
1/8 tsp. oregano
1) Heat 3 Tbsp olive oil in a wide skillet or Dutch oven (with cover) over medium heat. Add the onions and saute until tender and translucent, 5 minutes. Add the garlic and cook, for another minute while stirring often.
2) Stir in squash and green beans. Saute for a few minutes.
3) Add tomatoes and 1/2 cup water. Bring to a boil, then turn heat down to a simmer. Add salt and pepper. Cover and simmer for 30 minutes or until beans are tender and the mixture is stew-like. Add oregano, adjust salt and pepper if needed and simmer for another 5-10 minutes.
Serve hot or at room temperature.