This is another post for Wendy's Garden to Table Challenge.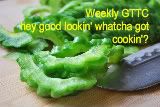 This week I used up some zucchini. I was craving a sweet snack so I decided on this delicious Chocolate Zucchini Cake. It's delicious. My dad's comment, "It's good! You can't even taste the zucchini". He was very apprehensive about trying it after I told him what I was making. Luckily, it turned out to be a huge hit!
Chocolate Zucchini Cake
2 1/2 c. sifted flour
1/2 c. cocoa
2 1/2 tsp. baking powder
1 1/2 tsp. baking soda
1 tsp. cinnamon
1 tsp. salt
3/4 c. butter, softened to room temp
2 c. sugar
3 eggs
2 tsp. vanilla
2 tsp. orange zest (1 large orange)
2 c. coarsely shredded zucchini (about 1 and 1/2)
1 c. coarsely chopped, lightly toasted walnuts
1/2 c. milk
1) Preheat oven to 350 degrees. Butter or use Pam to coat a
Bundt
pan.
2) In a small bowl, sift flour, cocoa, baking powder, baking soda, cinnamon & salt. Set aside.
3) With a standing mixer, beat butter and sugar until smooth (about 4 minutes). Add eggs (one at a time), beating after each addition.
4) With a wooden spoon, stir in the vanilla, orange peel, zucchini and walnuts. Alternately stir in the dry ingredients and milk into the zucchini mixture.
5) Pour into the
Bundt
pan. Bake for 1 hour or until a toothpick comes out clean. Cool in pan for 10 minutes, then flip upside down and completely cool on a wire rack.